Support groups for children and teens

   FOR MORE DETAILS
Hello,
I am writing to invite mothers who have survived experiences of conjugal violence and who are now looking for some information and support on parenting after a child's exposure to violence.  The group looks at what a child's experience of violence is and how mothers can support their child (ren) in adapting positive behaviors in the wake of trauma.  I hope that everyone will take the time to think of a family who can benefit from these services or post them for mothers to see. 
 
Sincerely,
Cyndi Masi
 
"We don't stop playing because we grow old we grow old because we stop playing." George Bernard Shaw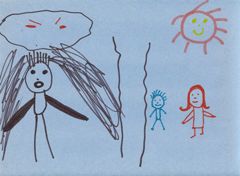 In this picture, the child and mother are separated from the father. The sun is shining over them and they are happy but an angry cloud is shouting above the father. 
Support groups for children & teens
The Shield of Athena offers confidential support groups for children and teens who have witnessed domestic violence. The support groups provide a safe environment for children and teens where they have the opportunity to meet others with similar experiences. This helps to end the isolation many young people feel and to lessen feelings of guilt and self-blame. Our aim is also to identify and develop ways of dealing with anger and as well to equip the children and teens with a safety plan for their protection.
Mothers will participate in a parallel activity and discuss their child's issues with another social worker in order to develop ways to better meet their needs. Workers will help empower mothers to develop techniques that will be both assertive and supportive in dealing with their children. Groups meet weekly for eight weeks.
Available in English.
Transportation is available for all children.
 
Eligibility
The support groups are open to children  6 to 12 years of age and teens between 13 and 17 (depending on the demand) who have been affected by violence.
All children must be referred from the social services network where a need has been verified or already be an existing client.
Children and mothers must be pre-screened by our social workers.
Children must have written permission by parent/legal guardian to participate.
Children must not present serious behavioural or substance abuse problems.
All services are offered free of charge.
For more information on any of our services or to book an appointment, call
514-274-8117 (Montreal) or 450-688-6584 (Laval)
or email us at: bouclierdathena@bellnet.ca
These programs are made possible through the generous support of l'Agence de la santé et des services sociaux de Laval, l'Agence de la santé et des services sociaux de Montréal and Batshaw Youth and Family Centres.