Art Auction 2019
PRESS RELEASE
SHIELD OF ATHENA'S 25TH ANNUAL ART AUCTION
This year's Art Auction was of special importance to a participating artist and ex client of Athena's House: " I want to help victims of
conjugal violence because I went through a very hard time, but thanks to The Shield, I now have a very happy life.".
90, 000$ was generated on November 10, at the Shield's 25th Annual Art Auction, in celebration of the 15 year anniversary of its Shelter, Athena's House.
Co chairs of the event were: Samantha Regimbal; What Up World and Gus Masoud; President of PurLift. The amazing Co-hosts were CJAD's Eramelinda Boquer and international comedian; Neil Janna.
"The lack of funding for services to victims of family violence, prompts us to hold this fabulous annual event" says Chris Ann Nakis; President of the Shield of Athena.
Participating artists this year included a wide variety of Canadian artists. As well, numerous works of David Werner Feist from the Bauhaus School Of Art, the single most influential modernist art school of the 20th century were auctioned off.
Sponsors: Air Canada Foundation, Bâton Rouge Complexe Desjardins, CJAD, Global Montreal, Mercedes Benz Laval, Mike FM, Pantazis & Associés, Scotia Bank, Sir Winston Churchill Pub, Thursday's Montreal Bistro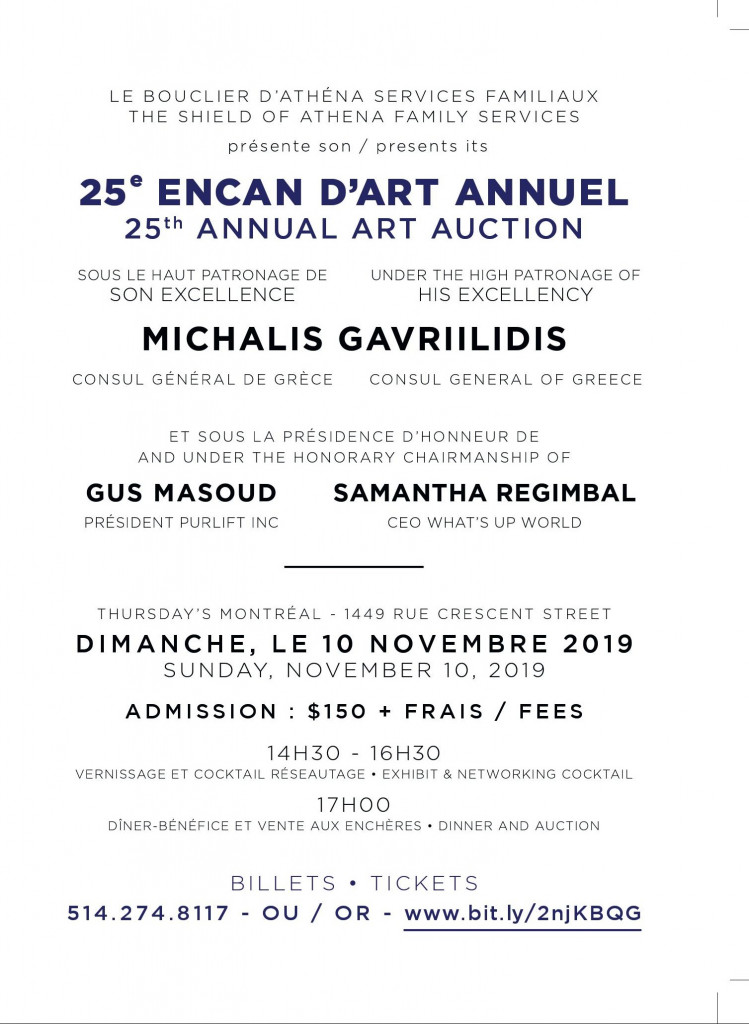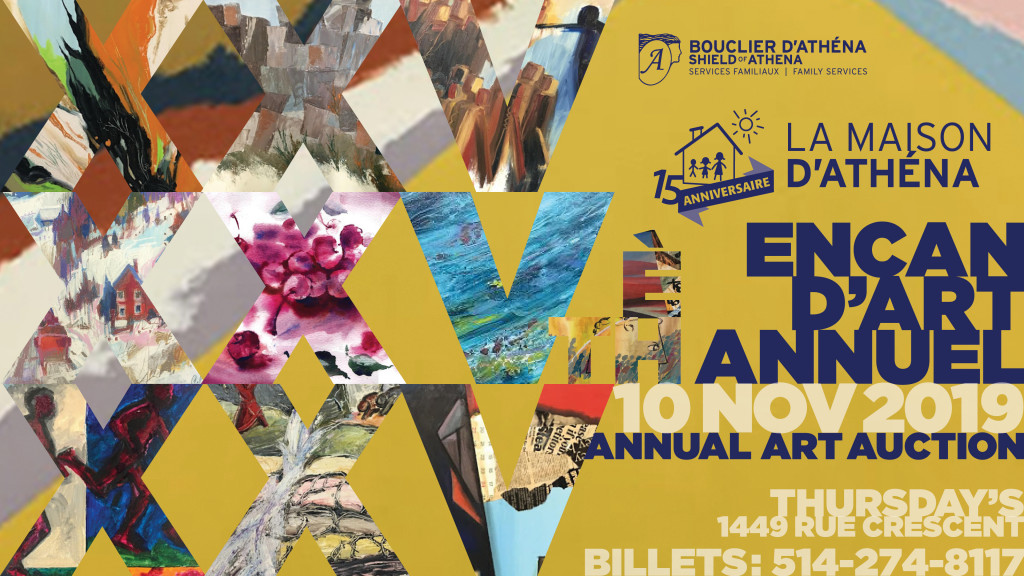 Dear Friend,
As this year's Co Chairs we are very happy to announce that The Shield of Athena Family Services will be celebrating 2 milestones this November!
The 15th Anniversary of Athena's House AND the 25th Anniversary of our Annual Art Auction.
Our goal is to raise $200 000 for the needs of the Shield of Athena network, including Athena's House, that has provided refuge, and security to thousands of women and children. In recognition of its 15th birthday, we hope to provide a desperately needed revamping of this house so as to maintain all of its necessary services.
Through our network, including 2 centers, an emergency shelter and a community outreach department, women and their children are given the necessary services and tools to break the cycle of abuse. In the near future, a Second Step Resource will also be added to this network. It will be one of the BIGGEST in Quebec with 17 apartments and integrated services.
We ask for your support by taking a sponsorship or placing an ad in the Art Auction Souvenir Album. In addition to the visibility that your business, commerce or association will receive, you will be raising awareness on an issue that matters to so many and help us continue to shelter even more people at Athena's House.
The Shield of Athena Family Services is a non-profit organization and a registered Canadian charity that depends on fundraising to provide many of its much-needed services.
Please donate generously and we thank you in advance for all your support.
Sincerely,
Gus Masoud; President Purelift inc &
Samantha Regimbal; CEO What's Up World