Katerina Mertikas
Katerina Mertikas ( nee Patrinos) born in Greece in 1957 is now a permanent resident of Ottawa, Canada. A self taught artist, Katerina is happiest when she is capturing the special moments of playing children. Her highly stylized art was first inspired by her two daughters and now reenergized with the addition of two grandsons who remind her of her own optimistic and happy character.
Katerina tries to convey to the world the message of love, peace, innocence and friendship through her colourful art. She has been painting professionally since 1991 and has annual solo art exhibits across Canada by the many galleries representing her.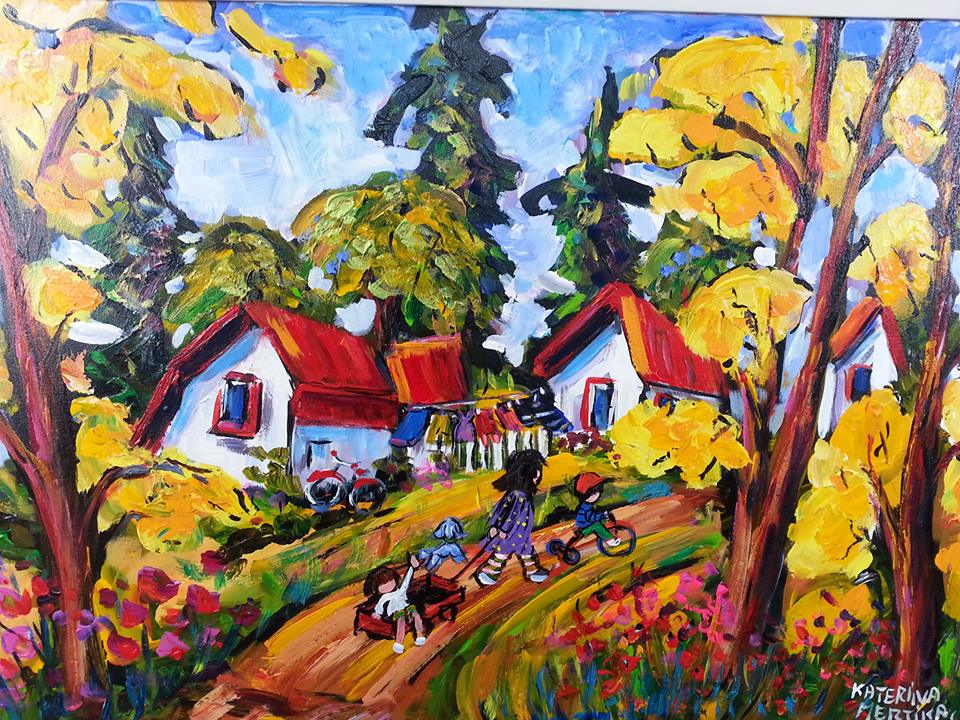 Katerina's work has been selected by UNICEF and the Canadian Lung Association for cards, stamps and posters to help raise funds for their charities. She is one of the artists on the cover the World Bank Book, 2009.  She has been honoured with a «Women of Distinction»award in the arts category in 1999 in Ottawa and elected a fellow of the Royal Society of the Arts, whose patron is Prince Philip of Edinburgh. 
Her works are found in many private and public collections including those of Mrs. Aline Chrétien, the late Princess Diana, Nana Mouskouri, Sir Roger Moore and Julio Iglesias.